Meet Dr. Taryn Pearson, BVMS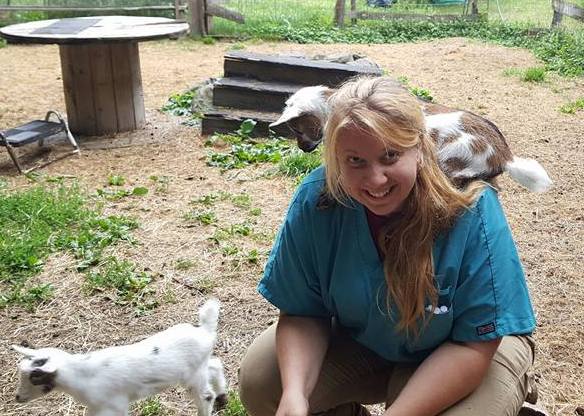 Just Kidding Around!
Dr. Pearson was raised in Acton, Maine on the family's farm. She is a 2013 graduate University of Glasgow's School of Veterinary Medicine in Glasgow, Scotland. Dr. Pearson spent 5 years studying veterinary medicine at Glasgow, obtaining her BVMS, before returning home to Maine to serve the agricultural community as primarily a large animal practitioner through North East Farm & Family Mobile Veterinary Service, LLC.

Prior to obtaining her BVMS degree, she received her BS degree in Dairy Management from the University of New Hampshire, Durham. She has also held jobs such as a stable manager for her mother's NARHA Premier Accredited Center, riding lesson instructor, dairy barn employee, 4-H volunteer, UNH Adjunct Professor and Veterinary Assistant Program Coordinator/Instructor for the MapleStone School.

Most of Dr. Pearson's clients have shared discussions of her varied interests and passions which range from raising dairy goats and riding her paint horse, Thor, to antique shop perusing, water color art and poorly executed knitting. Her cocker spaniel, Carey, is her constant companion who also enjoys traveling from visit to visit in the vet mobile.

Dr. Pearson's favorite part about veterinary medicine is its ability to help people by helping animals. She enjoys meeting clients and making sure the best options are aligned for both animal and human.